Sachin Garg: the author that broke my BIF (Bad Indian Fiction) streak. Can't find any suitable link to his profile or picture. So, I'm gonna keep this post short and wait till I find more dirt to fill place here...
Matthew Reilly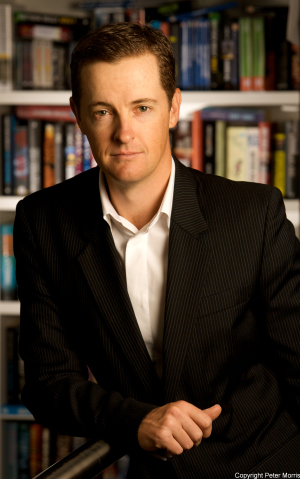 The man responsible for countless travelers around me, in public transport, to jolt in surprise at my involuntary shouts n screams at characters and stories he wrote on the paper...
If you EVER want to experience a movie on the pages of a novel... read Matthew Reilly. Critics would say that his novels are not historically, or geographically or even scientifically accurate. I say... I don't care. He writes fantasy novels that keeps you engaged, at the edge of your seat, makes you wonder and want to believe in magic. What more can a reader ask from a book?
Nora Roberts
The Queen of Roamnce... one reason what drew me to her writing is the way she mixes magic/ myth in her romances. The whole idea of paranormal romance was a genre that drew me to her writing and it has kept me hooked to her writing ever since. Though she also writes futuristic crime series novel as J.D.Robb, that aspect has never really appealed to me as much as her sheer romance series. Another great thing about her... she writes trilogies... more magic, more myth and more romance. After reading her novels... I really wanna visit Ireland, atleast once... get a job there preferably, work in a small pub or inn in the Irish countryside.... ;)
Ashok Banker
I'm reading through my first pick of the acclaimed writter... Gods of War. Lets hope this one turns out to be as good as the reviews that his earlier works has been claiming.
Parinda Joshi
Completed reading her debut novel, Live from London. Disappointing is the only word that can describe the two days I spent reading this novel.
Amish
The fellow is AMAZING. His debut novel blew my socks off. Such an amazing twist to mythology and history. Its amazing how someone can create stories, such fantastic stories about things that we know through time.... His follow-up novel was even more exciting... waiting for the trilogy to conclude.
Satjyajit Ray
Such a wonderful director...and equally prolific writer. I started reading his books with Feluda collection. Feluda novels are a fine examples of detective novels without "adult" content.... no crimes of passion, no violence, no sex and no scandals... It's such a simple and beautiful way of spinning stories that charm and intrigue you. Feluda was simplistic which lead me to read his other creations and undoubtedly... his other work is as mesmerising and engaging as his movies. Simple on the outset while deeply moving and life changing in the insight... those all who are looking for a thoughtful escape from "Cops n Robbers" on TV and novels....will sure find a great read in Ray's work....
Ruskin Bond
Bond...Ruskin Bond... his work predominantly features his residence in the foothills of Himalaya. I'm one of those fortunate souls who have felt the calling of the hills... his work makes me feel nostalgic with the memories of those fog filled days I've spent in the great Himalayas. His words transport me back to the simple life and mystic beauties of hills. Those who have heard the calling of the hills, will konw what I'm talking about... the sheer simplicity of his words and effortless portrayal of Himalayas... transports you to the charismatic world of simplicity and beauty... Whenever I'm down and lonely, I pick up his books... they are a sure fire way to lift the gloom.x
Rick Riordan
The man who gave us Percy Jackson. But more than the Percy series, its the Kane Chronicles that is my fav from Riordan. I've even done a rave review for Kane Chronicles on the READS page....
I believe the Kane chronicle series is much better than the Percy or Percy's follow-up series. If you fancy a fantasy with loads of magic and egyptian gods.... Riordan is your man.
Devdutt Pattanaik
The man after my heart. Mr. Pattanaik is an author who has nothing in common with my regular reading list. He's a mythologist, who writes about Hindu mythology. Fact based and logical. Nothing fantasy or magical about his subjects....and yet, he's someone whose books I've been devouring like crazy. Simple language, fluid sentence structure and an easy to read content....yet complex ideas that make you stop and wonder about things that you have known all your life. I recommend his books to ALL I've known. Coz in his words I've found an easy sincerity that makes you wonder why do people complicate the matters of religion.!.!.
Rachel Gibson
Sophie Kinsella